Irit Meir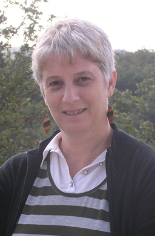 The Sign Language Research Lab is deeply saddened by the untimely death
of our dear colleague, Irit Meir, who passed away on February 23, 2018.
This email address is being protected from spambots. You need JavaScript enabled to view it.
Biography
Education: PhD in English Linguistics, Hebrew University of Jerusalem (1999)
Irit Meir is an associate professor in the Department of Hebrew Language and the Department of Communication Sciences and Disorders in the University of Haifa, and the associate director of the Sign Language Research Lab. Her research interests include sign language linguistics, focusing on morpho-syntax and argument structure, modality effects on linguistic structure with a special focus on iconicity and its interaction with grammar. She also studies morphology, syntax and language change in Modern Hebrew. More recently, she turned into investigating language emergence in new sign languages and the interaction between the linguistic structure of language and the socio-linguistic context in which it develops. Meir has co-authored the book A Language in Space: The Story of Israeli Sign Language co-authored with Wendy Sandler (Hebrew version: University of Haifa Press; English version: Lawrence Erlbaum Associates/Taylor Francis), and co-edited the book Nit'ey Ilan: Studies in Hebrew and its sister languages in honor of Ilan Eldar. Jerusalem: Carmel with Moshe Bar-Asher.
Research Overview
I am fascinated by the phenomenon of language: how it is structured, how it emerges, grows and develops, how we, humans, use it to communicate and how language is shaped by non-linguistic factors.
In order to address these issues, I study two types of languages – sign languages (Israeli Sign Language, Al-Sayyid Bedouin Sign Language, Algerian Jewish Sign language among others) and spoken languages (mainly Modern Hebrew).
My earlier work focused on universal properties of language. My research on verb agreement in sign languages, found some important properties shared by spoken language verb agreement. But it also unraveled interesting differences between verb agreement systems in the two types of languages. My subsequent research focused on factors that were found to play a role in shaping linguistic structure: the age of the language, the socio-linguistic circumstances in which it emerges and develops, the modality in which it is transmitted, and certain cognitive abilities that interact with language, such as the ability to use iconicity and metaphors in language.
Representative publications:
Publications
Dissertation
Meir, Irit (1998). Thematic structure and verb agreement in Israeli Sign Language.
Hebrew University of Jerusalem. Advisors: Dr. Yehuda Falk, Dr. Wendy Sandler.