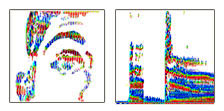 The investigation of prosody in Israeli Sign Language demonstrates that sign languages have comparable prosodic systems to those of spoken languages, although the phonetic medium is completely different. The research led by Wendy Sandler has presented evidence for prosodic constituents in ISL and established that facial expression in sign language plays a role similar to that of intonation in spoken language. Similarities as well as interesting formal differences between the intonation of spoken and signed language offer a new perspective on the relation between the phonetic basis of language, its phonological organization, and its communicative content.
Prosody in different sign languages: comparative studies
Israeli Sign Language and German Sign Language (DGS). The project, the first of its kind, aims to improve our understanding of the form and function of the prosodic systems in these two historically related sign languages and the diachronic development of the systems in each language. This investigation, which focuses mainly on nonmanual markers such as facial expression and head position, is a joint project with colleagues from The University of Göttingen.
Israeli and American sign languages. Our controlled study of these two sign languages revealed ways in which information structure is linked to prosody in different ways in each sign language.
Publications:
Nespor, M. & Sandler, W. 1999. Prosodic Phonology in Israeli Sign Language. Language and Speech, , 42:2&3, 143-176.
Sandler, W. 1999. Prosody in Two Natural Language Modalities. Language and Speech, 42 (2&3) Introduction to special issue, 127-142.
Sandler, W. 1999. The Medium and the Message: Prosodic Interpretation of Linguistic Content in Sign Language. Sign Language and Linguistics, 2:2, 187-216.
Sandler, W. 1999. Cliticization and Prosodic Words in a Sign Language. In T. Hall & U. Kleinhenz, (Eds.), Studies on the Phonological Word. Amsterdam: Benjamins.
Sandler, W. 2005. Prosodic constituency and intonation in sign language. Linguistische Berichte, 13, 60-86.
Sandler, W. 2008. The sign language syllable: hand and mouth in the evolution of language. In K. Zajdo (Ed.), Ontogeny and Phylogeny of Syllable Organization. Mahwah, NJ: Lawrence Erlbaum Associates 379-408. New York: Taylor Francis.
Dachkovsky, S. and Sandler, W. 2010. Visual intonation in the prosody of a sign language. Language and Speech 52 (2/3). 287-314.
Sandler, W. 2011. Prosody and syntax in sign language. Transactions of the Philological Society 108: 298–328.
Sandler, W., Meir, I., Dachkovsky, S., Padden, C., & Aronoff, M. 2011. The emergence of complexity in prosody and syntax. Lingua 120:12. 2014-2033.
Dachkovsky, S., Healy C., & Sandler, W. 2013. Visual intonation in two sign languages. Phonology 30:2. 211-252.
Sandler, W. & Lillo-Martin, D. 2006. Sign Language and Linguistic Universals. Cambridge, UK: Cambridge University Press.
Meir, I. & Sandler, W. 2008. A Language in Space: The Story of Israeli Sign Language. New York: Lawrence Erlbaum Associates Publishers.
Dachkovsky, Svetlana, Healy Christina, & Sandler, Wendy. 2013. Visual intonation in two sign languages. Phonology 30:2. 211-252.