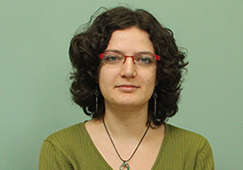 Oksana Tkachman Email: tox.cs84@gmail.com
Research Assistant. I became interested in sign language research while studying with Prof. Wendy Sandler. My MA thesis project focused on the noun/verb distinction in Israeli Sign Language (ISL) and Al-Sayyid Bedouin Sign Language (ABSL). I was also involved in the preparation of the dictionary of ABSL.
I currently work on compounding in ISL and ABSL, focusing primarily on general characteristics and developmental patterns of this basic morphological mechanism in the early stages of language development.
Through my work in the lab I have become interested in cognitive
sciences and the connection between language and general cognition. In
my future research, I am keen to explore the role of visual and
spatial perception in language, language processing in different
modalities (including gesture in spoken languages), language
production vs. language perception, and experimental ways of testing
formal linguistic hypotheses. In the future, I would like to continue
my involvement in sign language research, since the comparison of two
modalities of human language can give us unique insights into the
nature of language and the influence of other cognitive factors on the
language structure.
I feel that participating in our lab's research has given me a once-in-a-lifetime opportunity in a crucial period of my development as a Linguist.